Awarded setting: Temple Sutton Early Years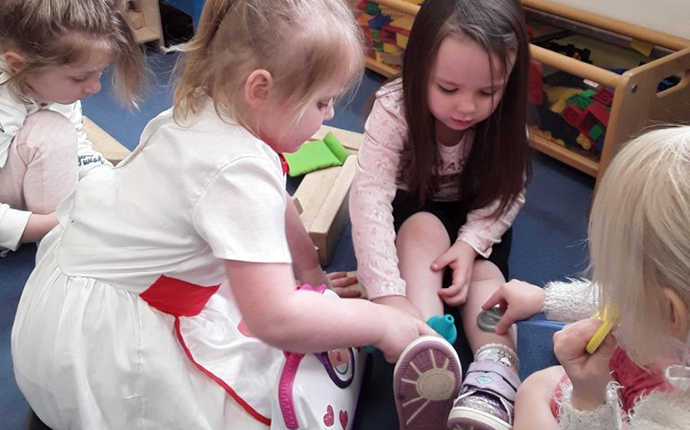 Temple Sutton Early Years celebrated achieving Millie's Mark in February 2019.
We have a large team of 35 staff and we are very proud that each staff member is qualified in full paediatric 12 hour first aid as well as holding a relevant childcare qualification.
Staff at Temple Sutton undertook the accreditation, which involved critically looking at the first aid experiences and qualifications for every staff member and gaining further knowledge of how confident they may be in different first aid scenarios.
The criteria took five months to complete and provides reassurance to parents that all childcare practitioners at their child's nursery are paediatric first aid trained and competent.
The children and staff celebrated during the week of 25 March by dressing up as various health care professionals and enjoying activities such as role play doctors, hospitals and people who can help us.  
Tim Barrett, Headteacher of Temple Sutton Primary School and Early Years, said: "We are very fortunate to have such a dedicated team in the Early Years setting, who in every way, go beyond the basic level of care and supervision to provide a truly outstanding start to all children and families who attend."
The first childcare provider to achieve Millie's Mark in the Southend area, Temple Sutton Early Years provides childcare for children from 0-4 from 8am to 6pm and has been established since 1995. It holds an Outstanding Ofsted record and can provide care for up to 130 children per day.
The nursery comprises five large room bases: Daisies 0-2 years Buttercups 2-3 years, Bluebells rising 3 years , Sunflowers 3-4 years and Poppies 3-4 years. 
Temple Sutton Early Years offers the following:
Integrated childcare for babies and children aged 0-4 yrs from 8am-6pm.
Free nursery provision for children over the age of 3 years either 15 or 30 hours for working parents
Free childcare for some 2-year-olds up to 15 hours (criteria applies)
Health services including supported 2 ½ year checks or attendance at appointments 
Groups to support parents' involvement in their children's learning
Qualified Counsellor employed to support nursery parents and children as required
Support and advice for parents who are seeking work
Outstanding Support for children with additional needs
Seamless transition into our feeder Primary school and before/after school club.
Back to Listing