Awarded Nurseries in Heywood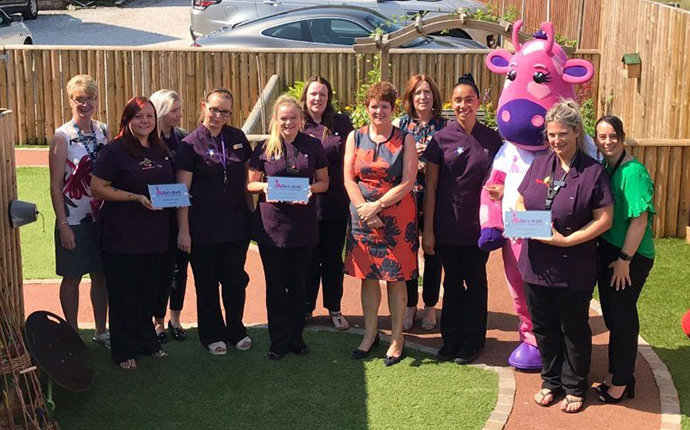 Local nursery providers Jayne and Darren Grindrod, who run nurseries in Heywood, are the first early years providers in the borough of Rochdale to achieve an accredited first aid award.
The couple set up their first nursery in Heywood 23 years ago and they now run three nurseries in the town; Buttercup, Daisy Chain and Woodland. 
They've always had a passion for ensuring that they go above and beyond in terms of first aid training with their staff and now they've been given the accreditation they deserve. 
The three nurseries have all been awarded Millie's Mark, the gold standard for paediatric first aid in England. 
Achieving the accreditation requires staff to build up a portfolio of training and achievements over 6 months which demonstrated staff development, working with parents and with other agencies. 
The mark aims to give parents an endorsed reassurance that staff know what to do in a first aid situation with children. It is a clear acknowledgement that children's safety is at the forefront of the provider's mind.
Jayne was delighted with the accreditation and said: "It means a lot to us to achieve Millie's Mark. We're really passionate about showing our commitment to first aid and we have always made sure that all our staff are first aid trained so it's really nice to get this formal recognition. I know it gives parents some more reassurance." 
The accreditation is named after Millie Thompson, who died after choking on food at a nursery in 2012, when she was just nine months old. Since then her parents, Dan and Joanne, have campaigned tirelessly for all staff in nursery to be first aid trained.
Councillor Kieran Heakin, cabinet member for children's services, said: "Well done to all the staff, it's a lot of hard work but it really shows their dedication to such an important skill. I know parents will really appreciate the work they are putting in to ensuring the safety of children." 
Back to Listing