Awarded Nursery: Clarence House Chatteris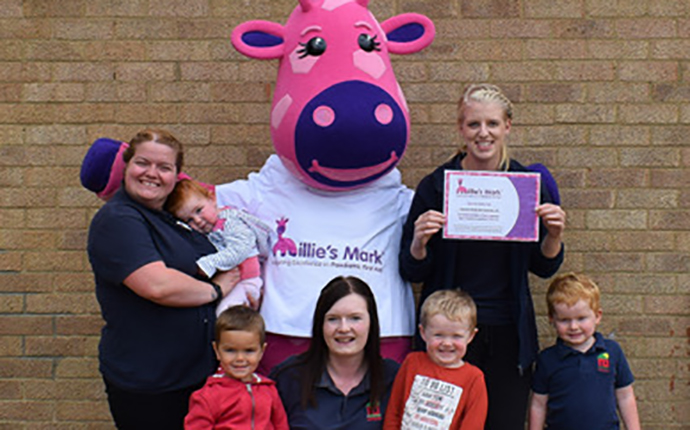 Clarence House Chatteris is a 36 place provision in Chatteris, Cambridgeshire. The nursery currently holds a staff team of 7 and was accredited with Millie's Mark in July 2017. 
The nursery decided to apply for the Millie's Mark award as a natural progression from having 100% staff Paediatric First Aid trained, to having an award that recognised the hard work and dedication of all the staff and the company within this area.

All staff are put on an approved 12-hour Paediatric First Aid course within 3 months of starting with us, and their knowledge is refreshed each staff meeting with quizzes and physical 'show me, tell me' scenarios. 
Since being accredited with Millie's Mark, many parents have commented on how reassuring it is to know that we are all competent and confident and that we can respond to an emergency appropriately if it arises. 

Many potential clients have also seen that we have been awarded with this and are impressed – sometimes awards like this can be the decider for parents between us and other nurseries. 
The staff seem to be more confident within their job roles and they also feel proud of what we have achieved as a setting. The award is a real confidence boost and gives the team pride and happiness! 
The process we went through to get Millie's Mark was very good for the setting as it gave us a chance to see what we needed to improve on and what we needed to implement if we didn't already have it. It also meant that we were reassured with the things we did have in place already; that it was the right thing to be doing. 
Lee-Ann Watson, Nursery Manager, said: "We are extremely proud of what we have achieved. There aren't many nurseries in the area that have the award, so this makes it even more special to us! The safety of the children and the confidence of the staff is paramount at Clarence House, so we are always looking at ways to work on this. 
I would recommend Millie's Mark award to any setting, as it really does help you as a nursery team to see where confidence may lack in some areas, and some things you may have missed in the busy day-to-day running of a nursery."
 
Back to Listing