Awarded nursery: Hipperholme & Lightcliffe Day Nurseries Ltd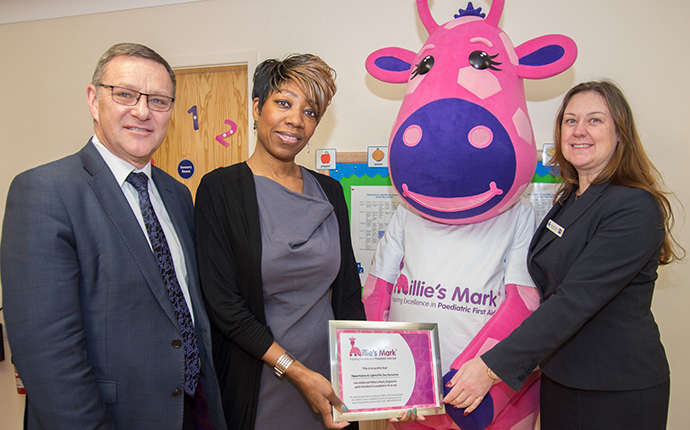 We were pleased to welcome Craig Whittaker MP and Patricia Hanson from NDNA as well as our training provider, parents, children and members of our senior management team to celebrate achieving Millie's Mark.
We decided to apply for accreditation for Millie's Mark for two reasons: firstly, we believe that every practitioner needs to have the skills when caring for up to 145 children every day and secondly, that is how we have always operated with all 30 staff trained in paediatric first aid before we applied for accreditation. So it made sense to have recognition for the high standards we had always achieved.
Since 2010, our training provider has offered us the 12 hour paediatric first aid training course as well as the annual refresher courses for those staff already holding a three year certificate. We believe it is important to have annual updates. Our provider has a great deal of expertise and skill and each November comes into nursery to train 30+ staff.
Practitioners have always enjoyed her classes and in the past we have put on additional parent classes. In November 2017 we will spend four Saturdays updating our skills just as we have always done. We are proud to be ambassadors for excellence in paediatric first aid.
For the first time this year we have also agreed a programme of 12 hour courses for parents and will also infill the courses with practitioners should we recruit new staff who require paediatric first aid training.
The nursery also uses Yammer (social media for business), and this allows us to keep our staff team up to date every single day. They can continually access guidance, articles and videos on first aid so as to sharpen their skills. This way of communicating within our nursery really has raised awareness and skill levels.
Practitioners are delighted and have been highly motivated as a team to achieve Millie's Mark. Our parents continue to have the reassurance their children are safe indoors and outdoors across the whole nursery because of the skill and training of our staff team.
Reacting to achieving Millie's Mark one parent, Suzanne Cheshire, commented: "Leaving a child at nursery whilst going to work is so much easier knowing they are in such good hands, well done Hipperholme & Lightcliffe." Our children were also so delighted to meet Millie Giraffe.
In our latest Ofsted Report, being judged Outstanding, it was highlighted: "Children are kept exceptionally safe and secure in the setting" (OFSTED 2013) - and that is our constant focus. Having achieved Millie's Mark reinforces that commitment.
Charlotte Roebuck BSc(Hons) EYTS
Managing Director
Back to Listing