Co-op Childcare blog: We are 100% Millie's Mark accredited!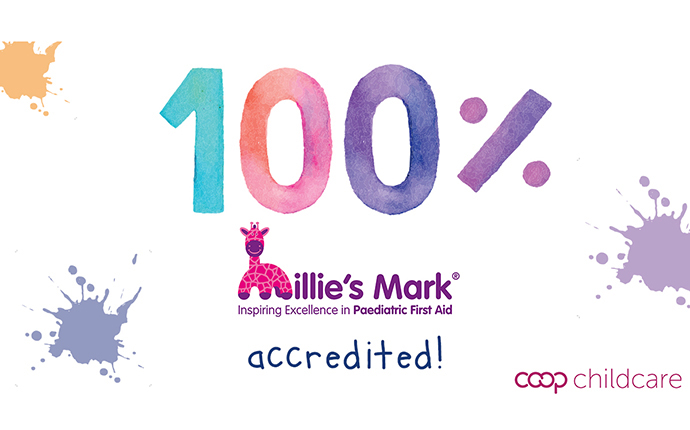 Co-op Childcare are the first large childcare provider to achieve Millie's Mark across the country. Here in their blog, they share what their journey to accreditation across all 44 nurseries involved.
What is Millie's Mark?
The Millie's Mark award certifies that in a nursery (or in our case, in all our nurseries) all practitioners are fully trained in Paediatric First Aid and are confident enough to deliver First Aid if they need to.
Millie's Trust
 was set up by Joanne and Dan Thompson in 2012 after their nine-month-old daughter Millie tragically died from choking on food while at nursery. The organisation now campaigns to increase legal first aid requirements amongst childcare providers. 
Why Millie's Mark?
The Early Years Foundation Stage (EYFS) guidelines only require one First Aid trained practitioner to be on the nursery premises at any given time. However, we wanted to go above and beyond this requirement so our parents could have complete trust in us to keep their little ones safe and secure when they're in our care.
Millie's Mark not only requires us to have 100% of our practitioners trained, but they need to be confident to deliver First Aid too. As soon as we heard about the accreditation we couldn't wait to be involved - to ensure that we were being held to the highest possible standard, to allow us to deliver the best possible care for our children.
Sally Mayer, Chief Operating Officer - Co-op Childcare, said: "As a childcare provider, we have the responsibility to make sure our colleagues are prepared for all eventualities when it comes to keeping the children in our care safe, which is why our partnership with Millie's Trust is so important to us. We are proud that all our nurseries have achieved Millie's Mark and that our practitioners have the skills that mean they might one day save a life."
Our journey to 100% accreditation
We've been involved with the Millie's Mark scheme from the very beginning when it was first piloted at 
our Newburn nursery
 in 2016. Then in 2018, 
our Dewsbury nursery
 was the 300th in the UK to achieve the accreditation. Now all our nurseries have received the award, completing our hat-trick of milestones to celebrate alongside Millie's Trust and NDNA.
And all our hard work has paid off! Our amazing Learning and Development Team have worked around the clock to deliver an extensive Paediatric First Aid training course across all of our nurseries. This on-going programme ensures the training of all our childcare practitioners and regular refresh sessions. It's no surprise our team won the Nursery Management Today Learning and Development Award for 2018!
So far, over 1,300 of our practitioners have benefitted from the training, with more than 15,000 colleague hours committed to attaining the award in total.  
What this means in your local nursery
Put simply this means whichever of our nurseries your child attends, you can be confident in our promise to take the best possible care of your little ones. That, and a certain giraffe will be proudly displayed in the reception area!
And we're not stopping there - our next steps will be getting our children and parents involved too. Watch this space for more news on our 'mini medics' and parent classes. 
Purnima Tanuku OBE, Chief Executive of National Day Nurseries Association (NDNA), said: "It's been a pleasure to work so closely with Co-op Childcare and we would like to congratulate all involved on such a major achievement. Co-op Childcare is the first large provider to receive the mark on such a scale and we look forward to seeing more groups reach this milestone as Millie's Mark becomes the industry standard."
What's next?
Millie's Mark accreditation forms a part of our much wider Healthy Living and Wellbeing programme, which will be launching across our nurseries over the coming months. From nourished tummies to nurtured minds, we are committed to helping little ones have the best possible wellbeing they can - inside and out.
Little Pioneers: Big Difference - coming soon to a nursery near you.
Back to Listing