Awarded setting: Mama Bear's Day Nursery (Baileys Court)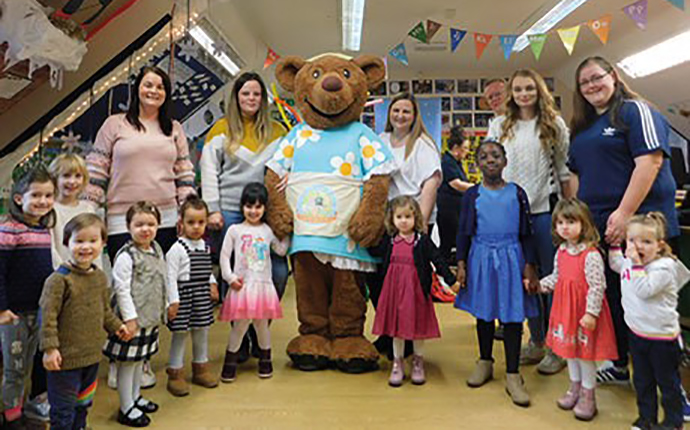 A Bradley Stoke children's day nursery is celebrating success in achieving Millie's Mark accreditation, a special endorsement to childcare providers who go above and beyond the minimum requirements by having 100% of staff trained in paediatric first aid and ensuring their learning is regularly reinforced. 
In line with the objective of the scheme, all staff at Mama Bear's Baileys Court day nursery on Webbs Wood Road in Bradley Stoke are now fully trained, with newly-increased awareness of how to deal with potential health issues in babies and young children.
Mama Bear's nursery manager, Emma Tolley, said: "Being Millie's Mark-accredited increases our ability to respond quickly and effectively in emergencies, raising the quality and skills of the whole team and ensuring we deal competently with day-to-day first aid issues, such as allergies. 
"It also provides enhanced reassurance to parents, because the nature of this scheme is that there will be continual assessment to keep our accreditation current, so we will constantly be reflecting on our practice and how we can best support the health of the babies, toddlers and pre-schoolers in our care." 
It took Emma's team four months to complete the training, which included visits from their first aid training provider, internal mentoring and on-the-spot training scenarios. 
The accreditation process for Millie's Mark is a comprehensive process which – on top of requiring settings to have 100% of staff working directly with children qualified in paediatric first aid - means that they must demonstrate that the learning is kept alive and in the forefront of practitioners' minds. 
Emma Tolley said: "It means my whole team are confident, ready and capable should an emergency occur, and gives parents the reassurance they deserve when they leave their child in our care." 
Mama Bear's Day Nursery is run by husband and wife team Bev and Tony Driffield and has gained a reputation in the South West for offering the highest quality, affordable care for children from three months to five years. Open from 7.30am until 7pm all their nurseries offer a range of childcare funding options including the government Extended Entitlement scheme. 
Established in 2002 the group now includes 24 nursery settings in Bristol, Somerset and Devon which are consistently rated by OFSTED as Good or Outstanding. 
The Baileys Court nursery is behind the Tesco Express in Baileys Court, with the nursery and pre-school housed in separate buildings, both resourced with age-specific toys and furniture to meet the needs of the babies, toddlers and pre-schoolers. 
For more information on Mama Bear's Day Nurseries visit 
www.mamabear.co.uk
 or call Emma on 0117 9794190 
Back to Listing