Awarded setting: St Alban's Pre School, Macclesfield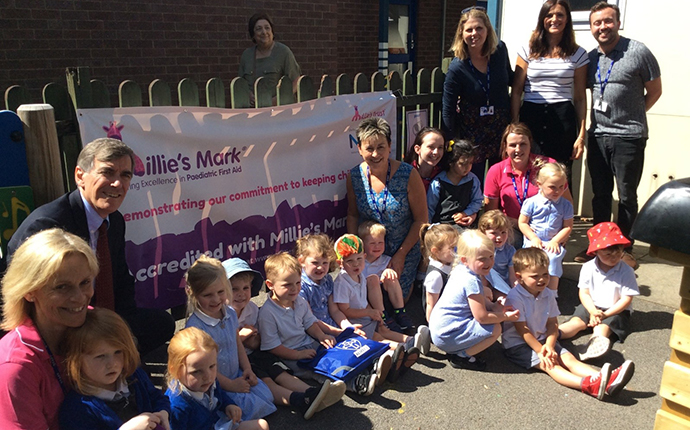 St Alban's Pre School was established in 1981.
The safety of our children is our utmost priority. When we heard about the opportunity to enhance our safety through Millie's Mark we were very keen to work towards this accreditation. We have always tried to keep our staff qualified in paediatric first aid but this was a great opportunity to set up a system to ensure all staff are qualified and to flag up staff who need to renew their training.
We also greatly benefited from the confidence audit for the staff. Using the audit we identified areas that our staff, despite their training, did not feel as confident in. We focused on all the areas that required confidence improvement in staff meetings. We used training videos and quizzes to look at different topics and all the staff felt their confidence had improved. We plan to continually revisit first aid and policies as a part of all staff meetings.
It has been very beneficial to complete a detailed risk assessment on the setting and focus on areas of improvement. We also set up new policies for lone working and food play. 
We were delighted to be awarded Millie's Mark. The staff all contributed and are very determined to provide the best environment possible for the children and also be ready to respond to any incident or emergency. We celebrated our achievement with a very enjoyable summer Stay and Play for our children and their families. We invited the local MP, Mr David Rutley and also members of staff from St Alban's Catholic Primary School. 
Back to Listing