Awarded setting: Tiddly Winks Chadderton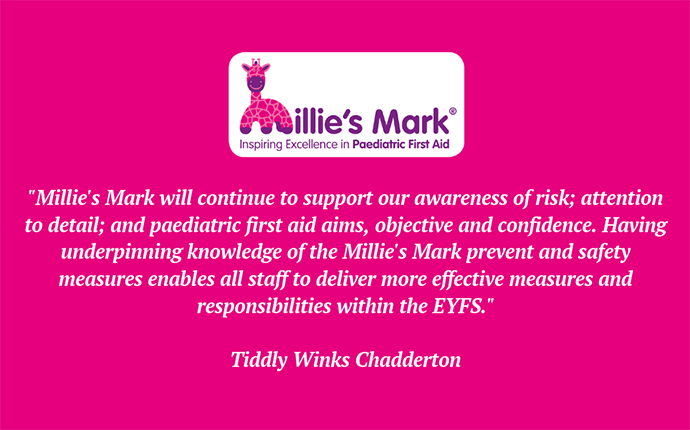 We are one of two nursery settings, caring for and educating children from birth to 11, inclusive of our holiday club facility and soft play jungle gym room.
Chadderton Oldham is based in a semi-deprived area with children from diverse backgrounds with bilingual languages - mostly English and Bangladeshi. We are slowly growing in numbers, having 12 staff and registered for 84 children
 Our first nursery has been established for over 25 years and our company has operated it for 14 years. We have achieved outstanding in every area in our first setting, taking children's safety and well-being as a paramount priority.
Millie's Mark will continue to support our awareness of risk; attention to detail; and paediatric first aid aims, objective and confidence. Having underpinning knowledge of the Millie's Mark prevent and safety measures enables all staff to deliver more effective measures and responsibilities within the EYFS.
As a new setting, we thought it was very important and beneficial for us to take part in Millie's Mark. Delivering its purpose to a new team helped us to be more vigilant in our efforts to minimise accidents, as well as being more confident to attend to minor bumps, grazes and possibilities of choking and hazards to small children and babies, by having due regard of health and safety practices - while also still giving all children exciting and challenging teaching and learning.
Millie's Mark has also helped management to bring a new team together in this most important area of safeguarding children, where all staff have been engaged and respect their inclusion in the award - which is most refreshing. Taking part in Millie's Mark has also helped us to clarify that our risk assessments and policies are at an excellent standard. 
Back to Listing