March 2022 awarded settings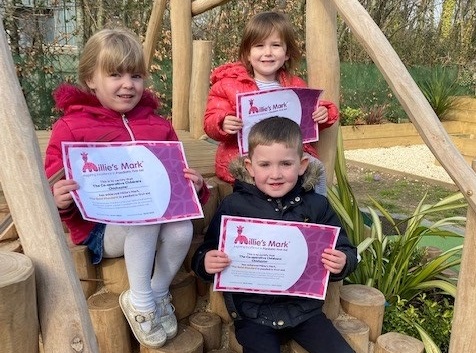 CONGRATULATIONS to the 18 settings who were awarded the prestigious Millie's Mark until 2025 – the gold standard in paediatric first aid proving the nursery has 100% of staff trained to keep children safe.
Acre Wood Nursery School 
Cooperative Childcare Charlton
Daisy Chains Nursery
NurseryMadinah Darul
Farm view day nursery
Tower School Hydesville
Old MacDonald's Day Nursery
Park Day Nursery
Pumpkins Nursery
Temple Sutton Early Years
The Bridges Nursery
The Co-operative Childcare Bristol
The Marston Day Nursery
The Pointer School Nursery
The Pump House Day Nursery
The Wendover Day Nursery
Total Tots Ltd
Tower Tots
You can find the nearest Millie's Mark accredited setting by clicking here.  If you would like more information or would like to join us head over to our website or contact the team on 01484 40 70 75.
Seen above is a picture from Little Pioneers Chichester who were awarded in January. 
Back to Listing