200th setting awarded Millie's Mark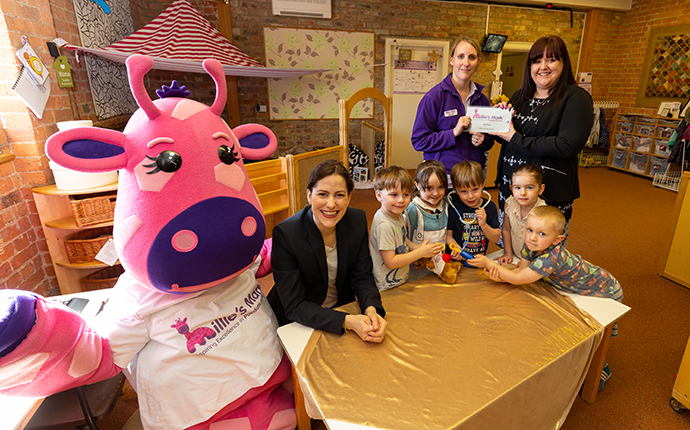 The MP for Louth and Horncastle has visited a local nursery to congratulate them on achieving Millie's Mark.
Wellies, in Horncastle, is the 200th Nursery to be awarded the quality mark for paediatric first aid in early years. Victoria Atkins MP was joined by NDNA's Lead Early Years Advisor Jo Baranek and Wellies' staff team and children.
Victoria Atkins said: "I am very proud of the dedicated team at Wellies and all other nurseries across the country who have worked extremely hard to ensure they can offer the safest environment for their children.
The measures they have put in places go above and beyond that which is required of them and I am sure this will be appreciated by the children's families. Well done."
 Purnima Tanuku OBE, Chief Executive of NDNA, said: "We are delighted that Wellies have achieved Millie's Mark. It's great for parents to see that the nursery team have dedicated themselves to meeting the highest standards and it reassures parents that their children are in safe hands.
"We have been overwhelmed by the response we've had since launching Millie's Mark back in at the beginning of September 2016, with hundreds of nurseries wanting to achieve the gold standard in first aid. We would encourage all nurseries to get involved with Millie's Mark as it's something that is vital for all staff to know."
Wellies' Deputy Manager Leanne Gains said: "Millie's Mark has given us the chance as a setting to promote our outstanding practice. We have always been a fully first aid trained staff team since we opened ten years ago. We now have something in place that gives us the recognition for this. This is something that we are proud of and part of the high service we offer."
Joanne Thompson, of Millie's Trust, said: "A huge congratulations to Wellies becoming the 200th nursery to be awarded Millie's Mark. We are overwhelmed with the amount of applications Millie's Mark has had and every award is as special to us at the last as it's all in memory of our daughter Millie.
"We are excited about the support Millie's Mark has had both in nurseries and from parents using it to look for a nursery for their child and we look forward to seeing many more awards being given throughout 2018."
Back to Listing