400 providers accredited with Millie's Mark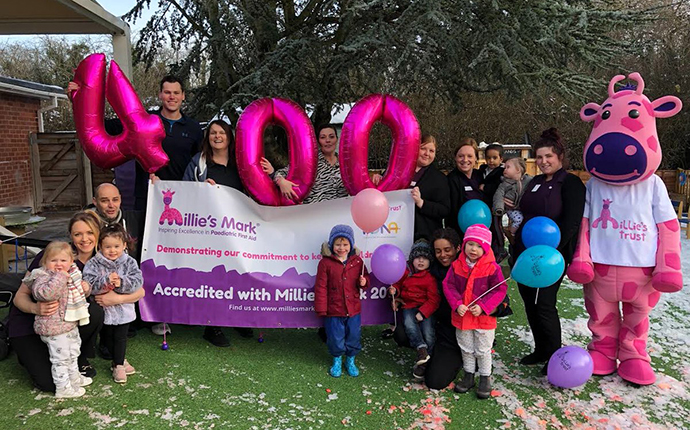 The number of early years providers with Millie's Mark accreditation has now reached 400!
The 400th setting to be awarded is Woodlands Day Nursery, in Altrincham - part of the Elmscot Group of Day Nurseries. They held a celebration event attended by Geoffrey Giraffe from
Millie's Trust
!
Purnima Tanuku OBE, Chief Executive of NDNA, said: "We are thrilled to have our 400th accredited nursery named as the 'Outstanding' Woodlands Day Nursery in Timperley, part of the Elmscot Group. Nursery staff have worked extremely hard to meet the highest standard of paediatric first aid and reassure parents that their children are in safe hands.
"It is fantastic to see the difference Millie's Mark is making across the country. There have been several serious incidents where practitioners have been able to react. The children received the help they needed and are okay. This gold standard in paediatric first aid has even been praised by the emergency services.
"We would encourage all nurseries to keep children as safe as possible by completing the Millie's Mark accreditation and inspiring excellence. The response to Millie's Mark continues to be incredible and hundreds of nurseries are working tirelessly to also reach this exceptional achievement."
The full list of all providers awarded in December 2018 and January 2019 is:
Finchfield Nursery, Wolverhampton
Honey Pot Nursery Garston, Liverpool
Bottesford Bunnies Limited, Scunthorpe
The Co-operative Childcare Cam, Dursley
The Cooperative Childcare Woolwich, London
Smarties Smartcare Ltd, Chester
Park Day Nursery, Reading
The Lighthouse Day Nursery, Leamington New Spa
The Northern Lights Preschool, Halifax
Mama Bears Day Nursery, Taunton
Doo..Dar..Days..Ltd t/a Westside Pre-school, Faversham
Cooperative Childcare Charlton, London
Norton Pre-School CIC, Worcester
Small World Childminding, Chichester
The Co-operative Childcare Waterloo, London
Rolfe's Nursery School, London
Incy Wincy's Ltd, Bedale
Bantock Primary School, Wolverhampton
The Co-operative Childcare Croydon
First Steps Children's Nursery - Rathvilly School, Birmingham  
Summerfield Day Nursery, Lytham Saint Annes
The Co-operative Childcare Islington
My First Friends Day Nursery, Birmingham    
My First Friends, Bromsgrove    
Sticky Fingers Pre-School Newlands, Southampton    
Sticky Fingers Pre-School Redbridge, Southampton    
The Old Station Nursery Faringdon    
Rosewood Nursery, Leeds    
Lonsdale Day Nursery and Out of School Club, Hartlepool     
Tiny Toez @ Westfield, Stoke-on-Trent   
The Nest Copper Beech, Birmingham    
Fit N Fun Kids, Falmouth    
Mama Bears Day Nursery, Wells Road, Bristol
Mama Bears Day Nursery, Hanahm Hall, Bristol    
Mama Bears Day Nursery, Great Parks, Bristol    
Mama Bears Day Nursery, Crews Hole, Bristol    
Mama Bears Day Nursery - Barewell Road, Torquay    
Pepperberry Day Nursery, Wilmslow    
Little Sparkles Nursery, Preston    
Woodlands Day Nursery, Altrincham.
Back to Listing