Celebrations as 100th nursery achieves Millie's Mark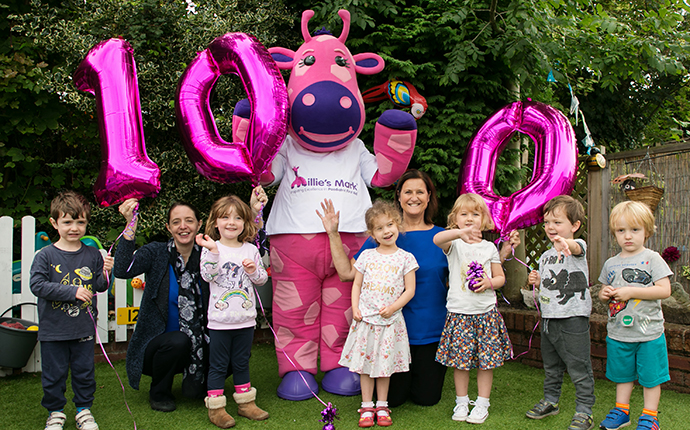 A children's nursery was delighted to be the 100th setting to achieve Millie's Mark, the accreditation for excellence in paediatric first aid for early years.

Dan and Joanne Thompson, founders of Millie's Trust along with key staff from National Day Nurseries Association (NDNA) celebrated with children and staff at Townhouse Private Day Nursery in Stoke-on-Trent.

The nursery played host to another special visitor – Millie Giraffe, the Millie's Mark mascot. They were also awarded a complimentary plaque to display their achievement to visitors and parents.
Joanne Thompson said: "Dan and I are extremely pleased that the 100th Millie's Mark has been awarded and even more so in such a short period of time since the launch. 

"We cannot express how proud we are of the legacy that has been created in our daughter's memory that is ensuring that children in the awarded nurseries are in the best possible position if they were to need first aid. 

"We have seen how hard the nurseries are working to ensure that they are meeting the rigorous criteria of Millie's Mark and they should be immensely proud of their setting in gaining this award. We are looking forward to seeing many more nurseries being awarded Millie's Mark in future."

Millie's Mark is being delivered by National Day Nurseries Association, the national charity representing children's nurseries across the UK, on behalf of the Department for Education. It was developed with Millie's Trust, and is named after Millie Thompson.

NDNA's Stella Ziolkowski, Director of Quality and Workforce Development and Laura Robshaw, Quality Manager, both attended the celebration. 

Purnima Tanuku OBE, Chief Executive of NDNA, said: "Congratulations to Townhouse Private Day Nursery for their achievement, along with all those nurseries across England who have been awarded Millie's Mark or are currently going through the accreditation process.

"Achieving Millie's Mark involves a thorough risk assessment process, setting audit and checks on staff confidence and knowledge. It is much more than having all staff trained in paediatric first aid, and demonstrates staff are going above and beyond to ensure children's safety and reassure parents."

Nursery Director Julie Lightley said: "Townhouse is a community nursery and we are so proud to be able to offer this to parents in and around Alsager. 

"Millie's Mark accreditation is way above and beyond what we already do as an outstanding nursery and that in itself is above basic requirements, so we'd like to thank Dan and Joanne Thompson and NDNA for their commitment to recognising nurseries where children's safety is above all else. 

"Our team worked really hard to gain Millie's Mark and we look forward to sharing the positive impact of it with our families."

Millie's Mark was launched less than a year ago, and over 150 additional nurseries in England are currently going through the assessment process.

Minister for Children and Families, Robert Goodwill, said: "The safety and security of our children is vital, and this kind of first aid training can provide real reassurance for parents leaving their little ones in the care of others.
 
"The success of Millie's Mark is a testament to the dedicated work of her parents Dan and Joanne to reduce the chance of other families having to face the tragedy they did. I'm delighted that Julie Lightley and her team at Townhouse have become the 100th nursery to achieve the mark, and I congratulate them on their hard work."
 
Back to Listing