First nurseries awarded Millie's Mark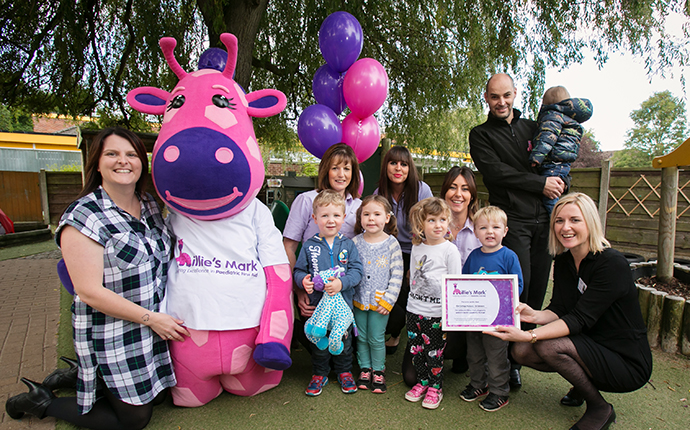 Ten nurseries across England have become the first to achieve Millie's Mark, the new quality mark for excellence in paediatric first aid for early years settings.
National Day Nurseries Association presented the first certificate this morning to Manchester-based Elm Cottage Nursery, one of ten nurseries which took part in a pilot ahead of last month's full go-live.
Stephanie Beschizza, manager of Elm Cottage Nursery in Cheadle Hulme, said: "Being part of the pilot for Millie's Mark and achieving the award has been such an achievement for our nursery. It helped us to reflect on our practice and realise our many strengths surrounding paediatric first aid as well as evaluating what we could do further to improve on standards. 
"We will be proud to inform our parents that we have this award and hope this is a reassuring factor for them when leaving their children in our care."
Millie's Mark is being awarded to nurseries where all staff members who work with children are qualified in paediatric first aid and who have well-deployed first aid processes. All nurseries achieving Millie's Mark have their own individual policies and procedures in exemplary practice.
Co-operative Childcare Newburn, near Newcastle Upon Tyne, for example, operates a buddy system where staff who are newly-qualified in first aid are supported by more experienced colleagues to help them gain confidence. Granby Carlton Nursery in Nottinghamshire runs six-monthly refresher courses on first aid for all staff.
Joanne Thompson from Millie's Trust said: "As Millie's parents, we are extremely proud that Millie's Mark is our daughter's legacy and we are so pleased that the first ten nurseries in England have now received their award. The response from the sector has been fantastic and we are pleased that so many nurseries across England have already made an application for the mark.
"For parents, choosing a nursery with the mark allows them to have confidence in the paediatric first aid training that the people looking after their children will have". 
Purnima Tanuku OBE, Chief Executive of NDNA, said: "Millie's Mark is a fantastic achievement for these nurseries. It will give reassurance for parents and help keep young children safe in nurseries across the country.
"We hope it will help parents make an informed choice about childcare."
The full roll of honour of awarded nurseries includes HeadStart Day Nursery in Horsham; Happy Tots Preschool Play Group in Ipswich; Little People Nursery in Shepherds Bush, London; Sansway House Day Nursery in Bristol; Elm Cottage and North Cheshire Jewish Nursery in Greater Manchester; Granby Nursery in Worksop; Cooperative Childcare Newburn in Newcastle Upon Tyne; Nature Trails Day Nursery in Rugby and Turnbridge Day Nursery in Goole.
Read more from some of the first awarded nurseries.
Back to Listing