First Scottish nursery awarded Millie's Mark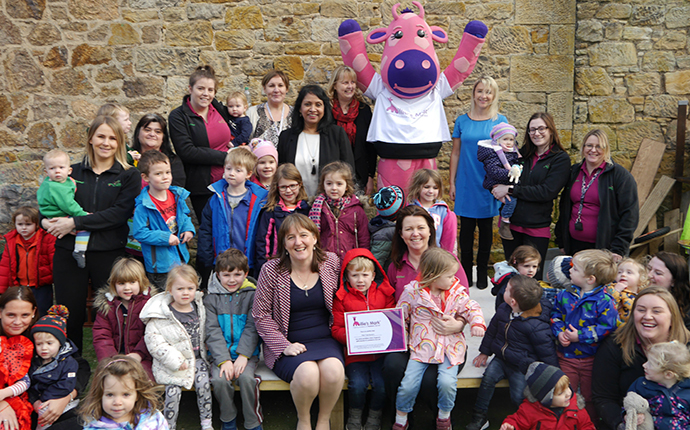 Watch STV coverage at the nursery here!
An East Lothian nursery is celebrating being the first in Scotland to be awarded Millie's Mark, the gold standard for paediatric first aid in early years.
Dan and Joanne Thompson of Millie's Trust, said: "We are extremely proud to see Pear Tree become the first childcare provider in Scotland to be awarded Millie's Mark in memory of our daughter. 
"We are delighted to know that parents in Scotland can now turn to Millie's Mark to find a nursery that goes above and beyond the requirements of paediatric first aid regulations in Scotland, to ensure that their children are in the care of well trained and confident staff. We are so pleased to hear that Pear Tree have trained their whole team in paediatric first aid, to ensure that everyone on site would know what to do individually or as a team to support one another in any type of emergency incident where first aid was required. 
"We are very much looking forward to seeing more childcare providers being awarded Millie's Mark in Scotland in the near future."
Millie's Trust was set up by Dan and Joanne Thompson following the death of their young daughter Millie who choked on food in a nursery. Millie's Mark is delivered by NDNA on behalf of Millie's Trust, and aims to keep children as safe as they can be in nursery, with staff training, policies and procedures well above national standards. 
To achieve accreditation, all staff working with children must be trained in paediatric first aid and able to demonstrate they are confident and keep knowledge up to date and fresh so they can act swiftly in an emergency. The Mark also makes sure the setting's policies and procedures are robust and regularly reviewed.
Gillian Harvey, manager of Pear Tree Nursery said: "We are absolutely thrilled to be the first nursery in Scotland to receive accreditation for Millie's Mark. We are a 56-place nursery located in Haddington a rural town in East Lothian, and we have been established for 30 years.
"We have always thought Millie's Mark was an amazing project. What could be more important than ensuring the safety of young children? When Millie's Mark launched in Scotland in May of this year, we were keen to get on board, adding to our other accreditations such as Silver Soil Award, Investors in Children, NMT and NDNA awards. We have always had staff trained in first aid, however Millie's Mark has given us an opportunity to review all our policies and procedures. 
"We also have a Community funded defibrillator on site.  The defibrillator was fundraised by parents, local council through John McMillan and Haddington Rotary Club and this is available for community use. 
"Our children are out in the community and on our forest site often, so we reviewed first aid not only within the building but in different locations. Through Millie's Mark audit we were able to gauge staff confidence in different first aid areas and work together to improve everybody's confidence. 
"Our whole team are involved, including lunch cover, supply staff, office staff, chef and all our practitioners. This gives all children, staff and parents extra reassurance that their children are safe and well cared for.
"We have two sister nurseries who have now also achieved this award (Pear Tree, West Road and Arnhall Nursery, Dunblane). Our three settings now have 80 trained staff fully trained in Paediatric First Aid. This has been a team effort and I am so proud of everyone involved which has allowed us to receive this amazing recognition."
NDNA and Millie's Trust worked with the Scottish Government to review the criteria for Millie's Mark which received their endorsement.  
Purnima Tanuku, said: "This is an outstanding achievement considering there are currently no specific requirements setting out the numbers of childcarers who must be paediatric first aid trained under Scotland's Health and Social Care Standards. We are thrilled that Millie's Mark has been well received across Scotland and are very proud of the staff of Pear Tree nurseries for their hard work and dedication. As well as becoming the first nursery to receive Millie's Mark in Scotland, the group now has three nurseries which have been accredited.
"More nurseries are working towards the award which we hope will become the standard for all childcare providers.
"We know that staff in nurseries who have achieved the Mark are much more confident in administering paediatric first aid. As well as this, accredited nurseries see an increase in inquiries from parents who are reassured that they can leave their child safely."
Minister Maree Todd said: "The Scottish Government is committed to continual training opportunities for early learning and childcare workers, and Millie's Mark provides a great opportunity to upskill staff to be able to do their best for children in their care in an emergency.
"Nurseries that have signed up to Millie's Mark will be able to tell parents that they are trained to a high standard in first aid for babies and toddlers, and I'm very pleased that staff have already undertaken these additional training opportunities where they are available."
Once a nursery or childminder has signed up to Millie's Mark, it usually takes between three to six months to review their practice and complete. Learn more about the process
here
.
Back to Listing