Record number of nurseries awarded Millie's Mark in May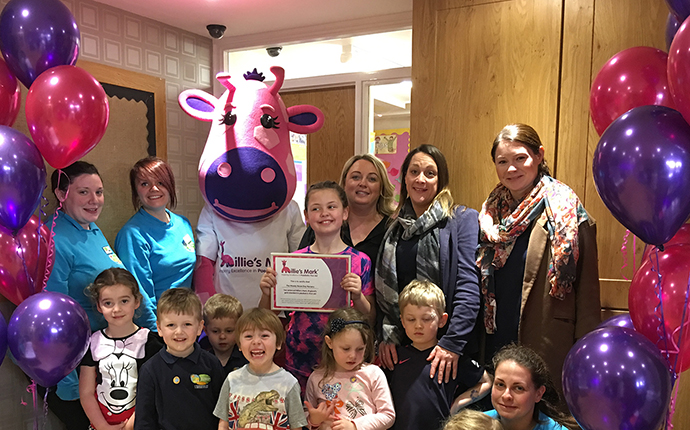 A record 29 nurseries have achieved Millie's Mark accreditation this month alone.
Millie' Mark awards nurseries that go above and beyond in paediatric first aid, and in order to be awarded settings must go through a thorough assessment process.
The newly awarded nurseries are based around England and include: 
Filkins Nursery, Oxfordshire
Smarty Pants Private Day Nursery Limited, Tipton
Churwell CIC - PLAY@Churwell, Leeds
Great Ormond Street Hospital Staff Nursery, London
025 Nursery Ltd, Stockport
Sunflowers Nursery School, Lincoln
Victoria Road Private Day Nursery, Manchester
Embsay Children's Centre, Skipton
Care 4 Kids Ltd, Blackburn
Wendy House Day Nursery Lynwood 
Lola-Belle's Private Day Nursery Limited, Tipton
Narnia Day Nursery, Altrincham
Child's Play Private Nursery,  County Durham
Bluebells Day Nursery, Brom
Lady Castle Nursery, Bradford
Griffin Park Primary School (nursery only), Blackburn 
Woodstock Day Nursery, Worthing 
Millers Dene Day Care, Newcastle upon Tyne
The Wendy House Day Nursery, Impington
The Wendy House Day Nursery, Shingay-cum-Wendy
St Marys Nursery, Blackburn 
Barton Preschool Nursery, Preston 
Tower Tots, Prescot 
Holmwood House Nursery, Colchester 
Charlton Acorns Pre-School, Oxfordshire 
Thorne Manor Day Nursery & Preschool Ltd
Little Explorers, Thornton
The Quays Day Nursery, Warrington
A further four nurseries have been awarded in June: New Beginnings Nurseries Ltd, Romford, New Beginnings Nurseries Ltd, Rainham, New Beginnings Nurseries Ltd, Loughton and The Teepee Day Nursery in Bracknell.
Congratulations all! Millie Giraffe will be visiting some awarded settings to help celebrate their achievement - she will next be appearing at Ladybird Forest Pre-School, Filkins Nursery and Barton Preschool Nursery. In the photo above she is at The Wendy House Day Nursery, who were awarded in April. Find out more about how awarded nurseries can hire Millie Giraffe
here
.
Back to Listing