New round of nurseries awarded Millie's Mark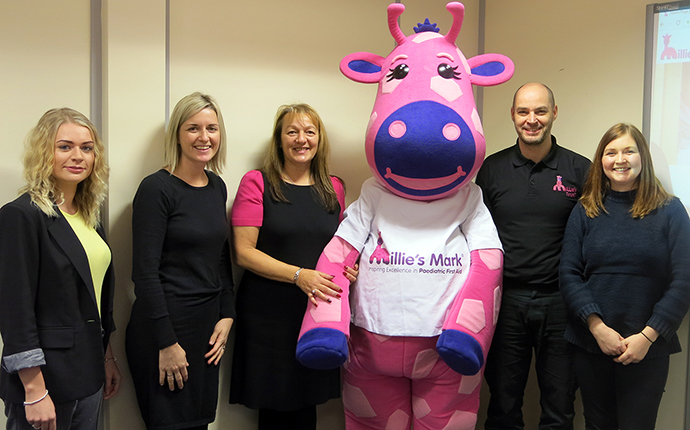 It was great to hold the first official Millie's Mark panel at head office on Thursday 26 January, and award Millie's Mark to 12 more settings. Panel members (above) included Dan Thompson from Millie's Trust and Heather Frizzell.
Congratulations to all of the awarded nurseries:
Gigglers Day Nursery, Bolton
Little Stars Ltd, Leicester
Little Faces Childcare Ltd, Chelmsford
Ladybird Forest Pre-School, Bedford
Hipperholme & Lightcliffe Day Nurseries Ltd, Brighouse
Mulberry Bush Nursery Whitefield, Manchester
Mulberry Bush Nursery Walshaw, Bury
Mulberry Bush Nursery Walmersley, Bury
Mulberry Bush Nursery Dumers Lane, Bury
Mulberry Bush Nursery Tottingham, Bury
Monkey Puzzle, Southport
Stationhouse Nursery, Portishead.
Holding Millie's Mark not only validates that the setting has 100% of staff working with paediatric first aid certificates but also demonstrates that they have systems in place to carry out ongoing checks of staff's confidence and competence in applying paediatric first aid.
We have also seen many of the settings change their practice to make improvements to help keep children safer, including lone worker and food safety policies, near miss audits and due-diligence checklists. 
Nicky Welsby, Manager at Monkey Puzzle Southport, said: "I would like to say a massive thank you to all of the Millie's Mark team for your help and support throughout the process. Thrilled with everything including the outcome."
Millie's Mark is the voluntary 'gold standard' award for paediatric first aid in early years settings - read a case study from an awarded nursery and watch a video
here
.
Back to Listing