New round-up of Millie's Mark awarded settings announced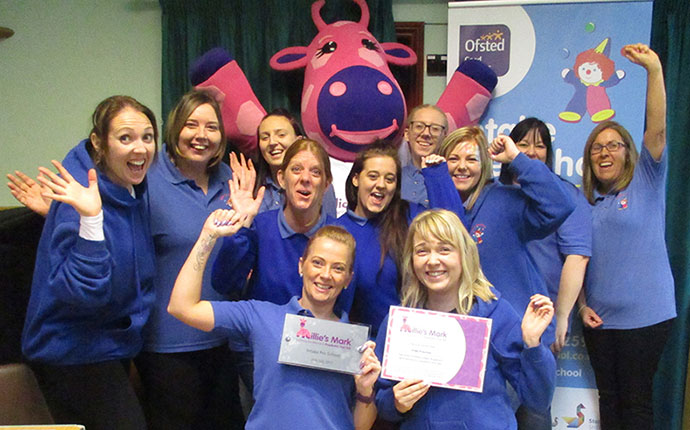 Following another panel held at NDNA HQ in November, read the latest line-up of settings that have been accredited with Millie's Mark.
The newly awarded settings in November were:
Elmtree Playgroup, Gloucestershire
Funtasia kids clubs Ltd, Greater Manchester
Little Rascals Nursery, Worthing
Kids Planet Beamont, Warrington
Excellence4Children Ltd, West Sussex
Sunny Bright Day Nursery, Doncaster
Pumpkins Nursery, South Gloucestershire
The Nursery, Lancashire
Independent Place Nursery, London
Acorns Pre-school, Ripon
Kidzgrove Daycare, Mansfield
Monkey Puzzle, Wilmslow.
Well done to all accredited Millie's Mark settings. Millie's Mark is awarded as a special endorsement to childcare providers that go above and beyond minimum requirements in paediatric first aid.
Millie Giraffe, the award's official mascot, has been visiting nurseries around the country lately to present them with their certificates.  
In the photo above she is at
Intake Pre School in Sheffield
. Awarded nurseries can hire Millie Giraffe as a special guest -
find out more here! 
Back to Listing